Earlier this year, in June, I celebrated my 30th birthday.
For something a bit different, I decided to have a girly tea party!
It turned out so beautifully that I thought I would share it with you here as inspiration as of course there was lots of crafty creativity involved..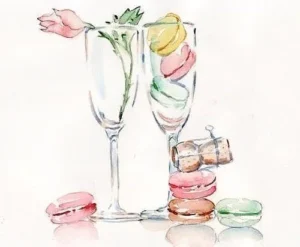 I had been looking for days for inspiration to begin my tea party invitations.
Luckily, the stars aligned for me and Kaisercraft released the 'High Tea' collection right at the perfect time!
Using collectables from 'High Tea' combined with butterfly embellishments, floral paper, black card stock and my Minc foil machine I was able to create these gorgeous invites in an afternoon.
As I was using the collectable packs, I created three 'designs' which meant I could make three invitations from each pack.
I really liked having the multiple layouts (see below) as it made them that little bit more unique.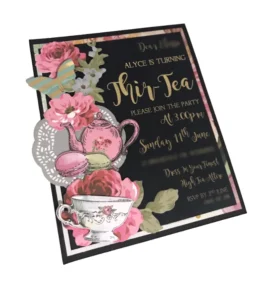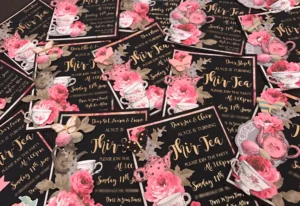 The night before the party I decided I would get my bake on (and I am NOT the baking type..)
I whipped up these cute little cupcakes which were decorated with pink fairy sprinkles and icing flowers from the supermarket.. I think they came out a treat..
They were all gone by the end of the party anyway so I'll take that as a win!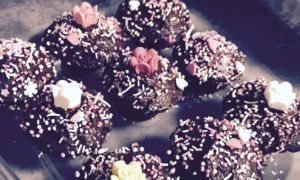 In preparation for the party, I made a few decorations using my Minc machine.
I foiled a number of the Heidi Swapp butterflies in golds, silvers and pinks and placed them in the flowers on the tables and even used them to fancy up my fridge..
I also created these decorative signs using Minc words layered over Kaisercraft 'All That Glitters Paper'.
Simply popping these signs into some white frames I had around the house made them look amazing!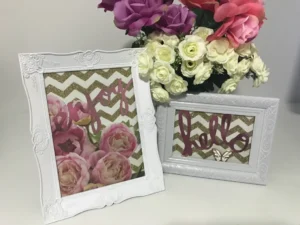 Importantly before the party, I stocked up on champagne (alright, I confess, cheap sparkling wine)..
These bottles matched the pinky-gold theme perfectly and they looked great on the table..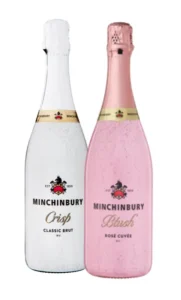 Okay, so eventually party time did come around.. (When I say eventually, of course as I'd been running around setting everything up I was still in my pyjamas until the last minute!.)
I ended up wearing this cute Alannah Hill 'The Sweetest Girl' frock, which I bought on sale for a wedding a while ago, but it fitted this occasion perfectly.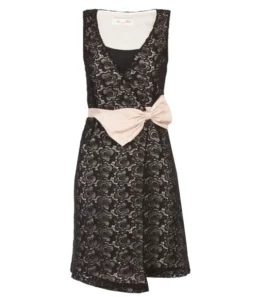 PARTY TIME!
With the vintage china I had been gifted from family members, a few pieces of my own, and a few op shop/ ebay bits and pieces, the table was set in full high tea fashion.
Each of the 19 settings included a 3 piece china tea cup, saucer and plate, champagne glass, gold trimmed cutlery, doilies and a cloth napkin.
The centre of the table was also adorned with gorgeous cake stands, tea pots and flowers – Oh and of course the champagne..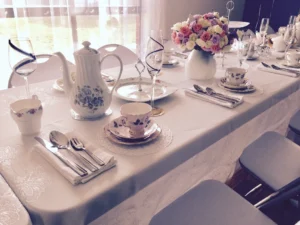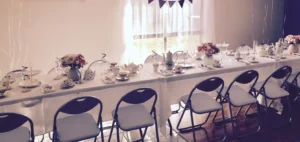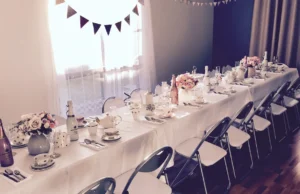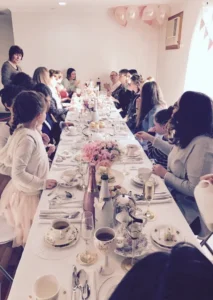 What an amazing day, I wish I could do it all over again!!.. Maybe next year..
It was lovely too that some of my not-so-crafty family members attempted to make me birthday cards (even if some were back to front..) I still enjoyed them very much!