Any crafter starting out quickly learns it takes quite some time (and money!) to get yourself set-up with all the amazing tools and devices available
(..and you'll never be complete as there's always something new!)
Shortlisted below are three of my favourite tools I personally recommend, available from your local Spotlight store!..
Spotlight is a great place for picking up your craft essentials especially if you wait for their regular '40% off craft sales'
Here are a few of my most loved Spotlight craft 'essentials':
For Cutting & Scoring:
We R Memory Keepers Trim & Score Board
RRP: $49.99
A scoring board is a 'must have' tool for any serious paper-crafter or card maker.
I love this board from We R Memory Keepers as it provides measurements in both inches and CM (one each side of the board), fits paper/ card up to 30x30cm on the scoring platform, has a built in trimmer which flips back to allow either trimming or a side bumper for accurate scoring and the platform even folds in half for easy storage – What more could you want! Oh yes, it also comes with it's own scoring knife and two trimmer blades.
While many standard 'paper trimmers' include interchangeable scoring blades, I find a dedicated scoring board to be much more efficient and accurate when creating larger, multiple-score projects – Being limited to only score in one line means much more paper adjusting. Being able to score all measurements on a 30cm page without adjustment is so useful and i enjoy pressing the lines with the scoring knife.
Having the built in trimmer on this board is also amazing as you can create whole projects with the one device by just flipping back the trimmer and flipping up the scoring bumper and vice-versa. The trimming blades can be easily and replaced when needed.
You will see this board featured in all of my tutorials! (although mine is a bit messy now due to a glue and glitter incident..)
I believe there is also a new version of this same board now available in white.
I will definitely be picking one up when my existing one eventually wears out!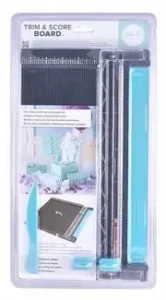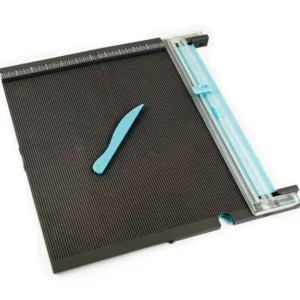 For Fun:
Heidi Swapp 12″ Minc Foil Transfer Machine
RRP: $210.00 AUD
This machine allows you to make those gorgeous foil prints you see in all the homewares stores at the moment, as well as cards, tags and pretty much anything else you can make by printing on paper, card or even chipboard.
Simply print your image using a laser printer (ink jets won't work as the foil only reacts with toner), apply the Minc foil (colour side up) over the image, sandwich your print and the foil inside the transfer folder (comes with your machine) and run it through the machine (like a laminator). Once it comes out the other side you can simply open the folder, peel off the foil and Ta-Da! Your beautiful foil print is good to go. It's that easy!
The machine has 5 heat settings which can be set depending on your project and can also double as a regular laminator when used with laminating sheets.
Foils are also available in a wide range of colours including my favourites gold, rose gold, pink and silver. Your machine will come with a few bits to get you started but additional rolls can also be purchased from Spotlight for $19.99, or again wait for the sales and stock up then!)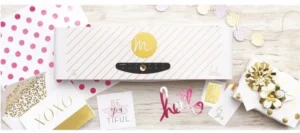 For Creating:
Spellbinders Platinum 6″ Die Cutting Machine
RRP: $169.99
Whether creating your own ephemera, layered elements, flowers or embossing a die cutting machine is a crafters best friend!
Sandwich your dies inside the cutting plates with your paper, felt or cotton material, load on top of your platform and spin the handle.. When it comes out the other side you will now have perfectly cut shapes!
Embossing works in much the same way, but rather than cutting the paper, it presses raised and depressed sections into the paper creating beautiful embossed designs.
There are many options of die cutting machines, the most popular being the Sizzix Big Shot, but I picked up this Spellbinders machine in a half price sale one day and cannot fault it! This machine comes complete with 2 clear cutting plates, a blue embossing plate and a multipurpose platform. It folds up when not in use and has a handy handle on the top so it is fully portable.
It works well with all common thin or steel rule dies and plastic embossing folders such as Kaisercraft and Sizzix (most dies range in price from approx $7 to $60, with the average around the $20 mark, embossing folders are generally between $5 to $15)
Grab one for yourself and give it a go!

What have I got my eye on next?:
I'd love to try out one of these new Cricut Explore Air2 digital cutting machines!
RRP: $399.99 (VIP)
I have not yet ventured into the world of digital cutting machines (that price, ouch!) but this one looks like a pretty good place to start and there are so many accessories available!
It works somewhat like a printer, only instead of inking an image, it cuts it out! It can be used to cut through over 100 textures including card, vinyl, foil and leather. It can even be adapted to draw and write with pens!
If you've tried one, feel free to leave your review in the comments below as I'd love to hear your thoughts!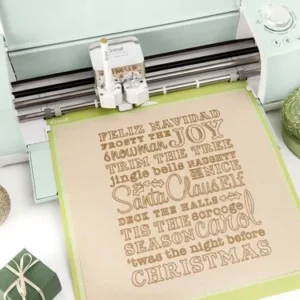 So there you go – Get down to your local Spotlight today (or wait for the next sale!) and start creating!
Please note: All above views and opinions are 100% my own and are not sponsored or endorsed in any way. I also make no guarantee to the suitability of these products to your crafting needs and suggest always carrying out your own research prior to purchasing.