Recently, my brother and his beautiful wife married on the Mornington Peninsula, and what a lovely day it was.
After making their wedding invitations, I remembered I should also make them a wedding card!.. So along came this exploding box!
Luckily I had purchased these Ruby Rock-It, Bella! wedding die cuts from Lincraft in the Boxing Day sales which fitted the bill perfectly! I simply added some folded tabs to the reverse which I glued to the box which made the elements stand up in the centre when the box is open (I guess they are standing up when the box is closed too? Schrodinger..!)
Along with some matching papers also from the Ruby Rock-It Bella range, as well as a few bits a pieces from my collection, I was able to whip up this fun card in no time!
Unfortunately I forgot to get more photos before giving the card, but I did manage to take the below video so you can see it in action.

As mentioned above, here were the wedding invitations I made for the big day too.. Pop-up box cards!
These were made using the beautiful Sage and Grace Kaisercraft collectio, which perfectly matched the wedding colours of mint green and rose pink/gold.
Luckily it was not a huge wedding so I only had to construct about 12 of these invitations.
Here they are still in progress..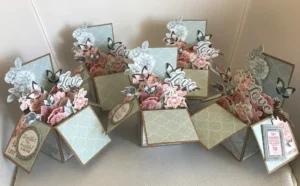 ..and here they are complete..
I love how they came out!..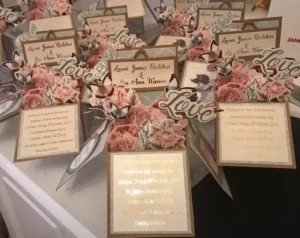 Have you ever made and exploding box card?.. Would you like me to do an instructional on how to make one?
Share your links or comments below..