Have you heard about the fun competition Lincraft are running at the moment?..
Create a dog bandana using their easy video tutorial and submit on social media with #Lincrafters to be in the running to win a $50 gift card!
Who wouldn't love a free $50 to spend on crafts!!
Anything involving pets and crafts has got my interest.. and not having a dog isn't going to stop me!..
Here's the video – Simple!
Now.. I'm still feeling resentment toward my glue gun from my last hot glue disaster, so I decided to make mine instead using fusible web (or hem tape as its commonly known).
I did a couple of extra folds to ensure all the raw edges were neatly tucked away.
The fabric I used was actually a quilting 'flat fat' (which worked out great for this project).
I love the geometric shape and bright colours of this fabric.
Here's a quick look at how I did it..
..And how does it look when it's all done?
(..and what did I do about the no dog situation?)
I'll let Mittens answer that..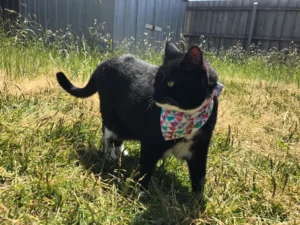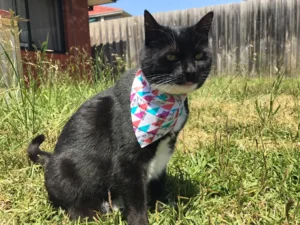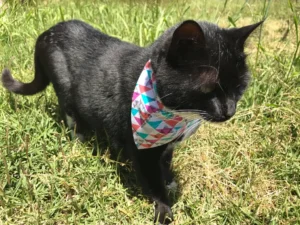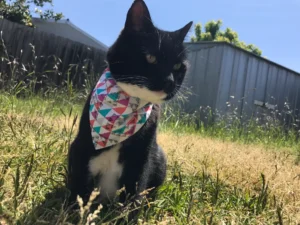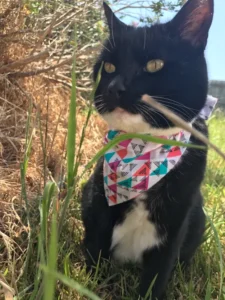 That's my girl Mittens – Love her to bits!
Anything a dog can do, Mitta can do better!
..Wish me (and Mittens) luck!
Are you going to enter?!.. I'd love to see your creation..
Share a link in the comments below!
*(..I am already aware the grass needs mowing, sorry!)
(Disclaimer: I am in no way associated with Lincraft or this competition, I just really like crafts and cats!)