Today I am going to show you how to make this amazing Z-fold card with a pop out box section in the centre!
It's such a beautiful card as you can add so much depth and dimension, yet it all folds down flat to fit in an envelope.
This card is sure to impress and will look great when it is proudly displayed by your nearest and dearest.
Although it looks impressive, it is super simple to construct in just 5 steps as shown below!
The best bit about this card?.. It can be made from 1 sheet of A4 card and some die cut shapes/ephemera
The collection I have used for this card is Nature's Noel by Rosie's Studio.
I also added gold edging to my card using a Krylon leafing pen (available at Spotlight)
For this project you will need:
1 piece of A4 size card stock
Scoring board
Cutter or scissors
Glue
1 Pack of ephemera (die cut shapes)
Adhesive foam (to adhere die cuts)
Optional – Gold leafing pen
Step One:
Cut one piece of your card to 28 x 12cm
With the other (9cm) piece, cut it in half to form two strips of 28 x 4.5cm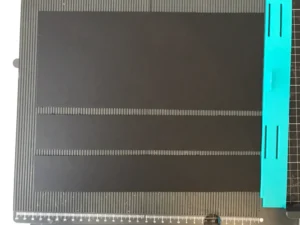 Step Two:
In landscape position, score your 12cm wide piece at 7cm and 14cm
Fold your card with the first 7cm score downwards (valley) and the second 14cm score upwards (mountain)
Step Three:
Score one of your 4.5cm pieces also at 7cm and 14cm (same as your card piece)
Fold this piece the opposite way as you folded your card back (so this time fold the 7cm score mountain and the 14cm score valley)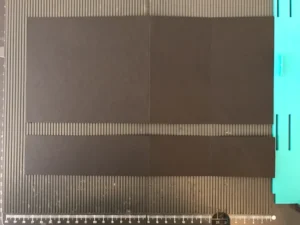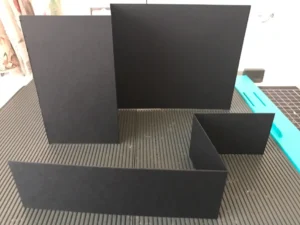 Step Four:
With your last 4.5cm wide piece, cut this into 3 x 9cm long pieces
Score each 9cm piece at 1cm and 8cm
Fold the scored ends upwards (mountain)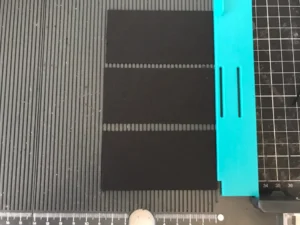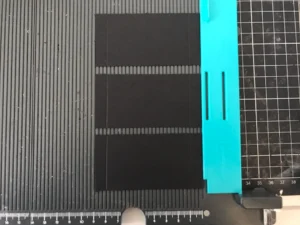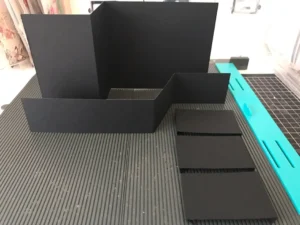 Step Five:
Glue the 4.5x28cm strip to your main piece of card by adhering the first and last 7cm of the strip only (leaving the centre piece 'popped-out')
Glue your tabs inside the box by applying glue to the 1cm flaps on each side
Once everything is glued in place, you should be able to fold and open your card
(Note: I added my gold leafing the the top and bottom before sticking together)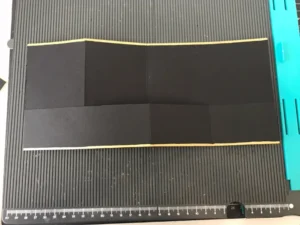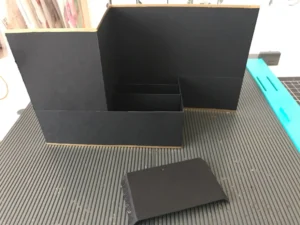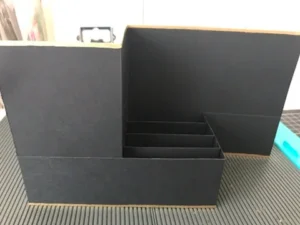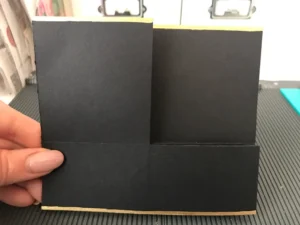 That's all there is to it in terms of construction of the card – How Easy Was That!
Now on to the fun part: Decorating!
You can cover the sections of your card in decorative papers if you prefer, but as my aim was to use heaps of ephemera I left my card plain.
I started by designing the front of my card and built from there.
As you add elements to the box and top right side, keep in mind how your card will look when it is closed flat too.
These were the pretty die cuts I used for decoration..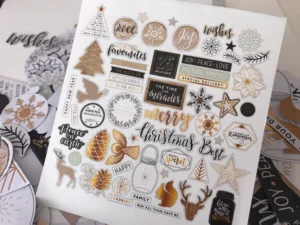 This was how my decorating started..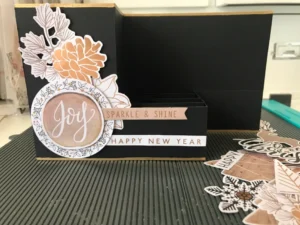 ..and this is how it ended up when complete!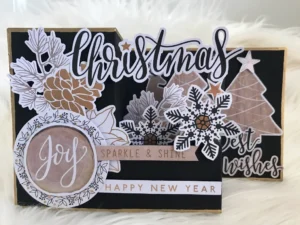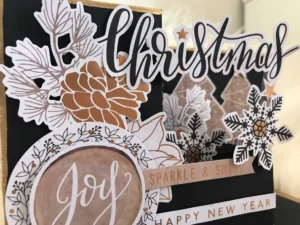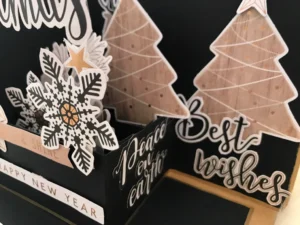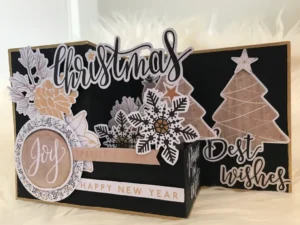 For the finishing touch, I made an envelope to go with my card.
If you haven't already, see my previous post 'Easy Envelopes' for instructions on making super simple yet pretty envelopes!
I made my envelope from kraft paper to which I then added a smaller piece of black paper with gold edging (to match the feel of the card).
I then used some more ephemera from the pack to decorate.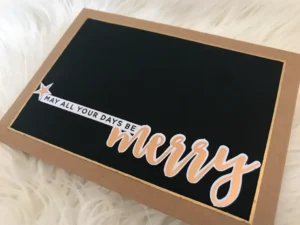 It just so happens, that the envelope also makes a great display base for the card too!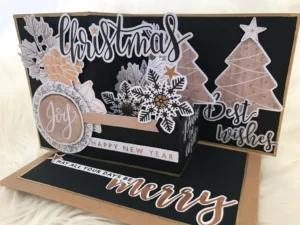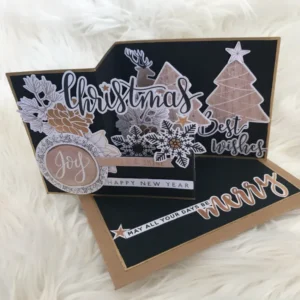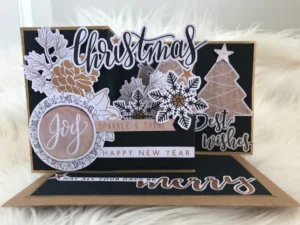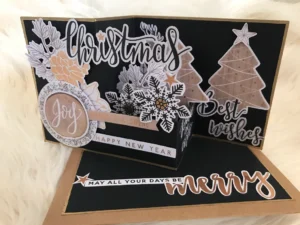 Made one? Share a link in the comments below.. I'd love to see it!
Merry Christmas! XOXO