Flowers are just the most perfect craft embellishment
While you can buy pre-made blooms, they do get expensive especially if you want lots of different colours..
How do us crafty people solve a problem like that?..
Make them from paper scraps!
Die cut & layer your own flowers!
I made the card pictured using the the Kaisercraft 'Layered Flowers' decorative die set.
You can layer the flowers from this set in a few different ways, but I only used the 'small' sized flowers and leaf.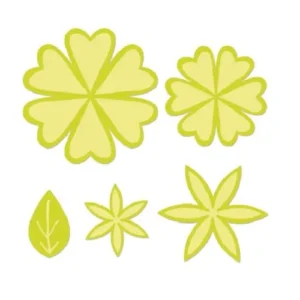 The flowers shown were made from leftover coloured printer paper!
Give the flowers more dimension by cutting away petals on the second and third layers then re-joining the sides back together in a 3D shape.
Curl back the edges of the flowers and die cut a small pointy flower in green to use as the base for layering.
Finish off by adding a little pearl in the center just for that bit of extra sparkle
See.. Simple!
Now create something special with your handmade blooms.
I die cut a lavender square using the largest of the Kaisercraft 'Stitched Squares' dies, which i adhered over an ivory card base.
I then cut a blue 'Congratulations' sentiment using a Kaisercraft word die.
The pink butterfly in the centre was punched with a Christina Re butterfly hand punch.
As always, added a little bling to finish it off!
I think it came out really cute for a quick little Sunday afternoon DIY!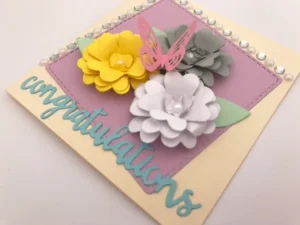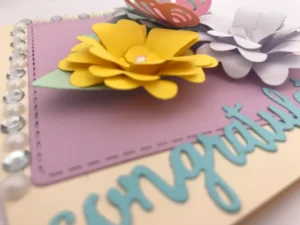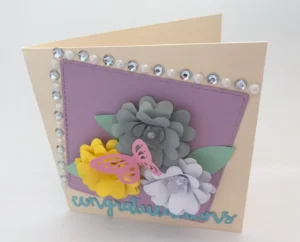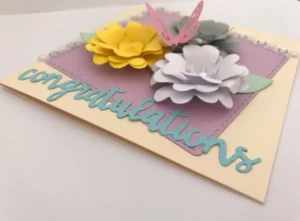 While it's so quick and easy to just buy pre-made embellishments, the sense of accomplishment when you can say 'I made it from scratch' feels great!
Such a fun card, I might start reaching for my dies again more often!..
XOXO